Tuesday, 12 November 2019

Top Tips for CV success!
CVs are one of the most important tools you have as a job seeker; it's the first thing an employer will see, so it's incredibly important yours stands out against the competition. Here's how to make your CV as successful as possible!
Nail the basic CV structure
In order to have a job winning CV, there are a number of things that you should always include. Our below CV is a great example. Download our template CV here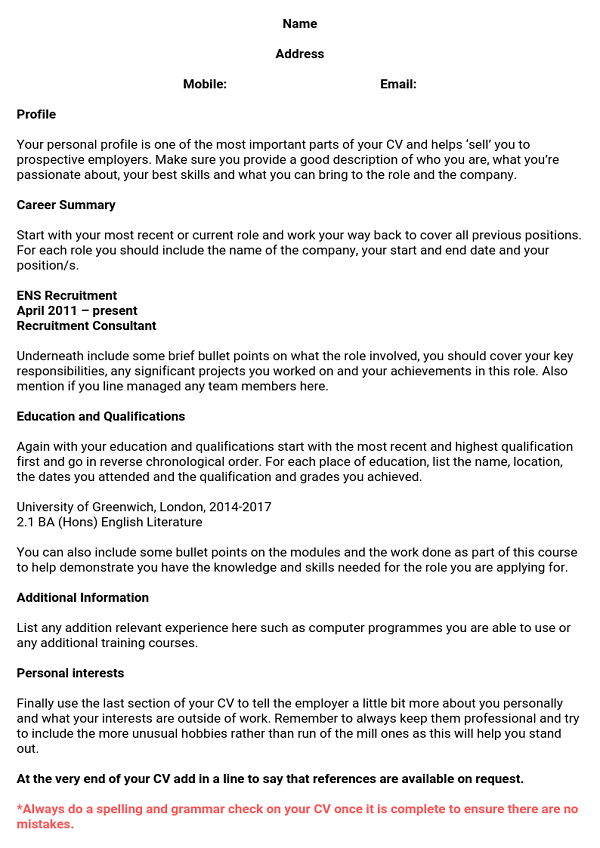 Make your CV clear and concise
Employers receive dozens of applications for every role, so you'll want to make a good first impression fast. How fast? Shockingly enough, the average CV lasts less than 10 seconds! Your CV has to be attention-grabbing right away!
Make sure everything an employer needs to know about you is easy to find. Putting all of this info at the top of the first page, our example CV above, is ideal.
Use clear and concise sentences throughout the document. You'll need to give enough detail to explain yourself, but try to keep it all within 2-3 pages.
Use bullet points where appropriate – they're a clear way of covering the key points quickly and concisely.
Lastly, make sure sentences have room to breathe. A wall of text is incredibly intimidating and a big detraction for most recruiters!
Be confident, and sell yourself
You need to convince the employer that you should be their next hire, so don't be afraid to sell yourself. There is a fine line to walk here though, as you don't want to oversell your skills, or outright lie about your qualifications!
To make an impact quickly use 'active voice' throughout the document. This is a style of writing which is more punchy and interesting to read, and will help your CV stand out and sound more confident.
Avoid over-selling yourself (or lying) on your CV too, you don't want to encounter questions you can't answer in your interview!
Create an eye catching Format
To maximise your chances of making a great first impression, your CV has to be eye catching. You'll want to format the document in a way that clearly presents each section of information and makes the best use of the limited space. Our template CV is a great starting point.
Format the document with headers and sub headers to separate out key information and make the document easier to read.
Make the best use of the limited space by using thinner margins and concise bullet points
Lastly, don't rely solely on spell checks. Take time to read through what you've written to spot any sentences that don't make sense.
Provide all of the information they need
Make sure to include all of the necessary information as recruiters will always skip over an incomplete CV. The above template is a great place to start as it's what an employer will typically expect from your CV.
Many people never list the reason for gaps in their employment, for example. It's always best to be honest and explain what happened instead of leaving a blank space.
Tailor your CV for each job
It's important to carefully consider what to share on your CV, as an employer won't bother sifting through irrelevant information. This is why it's vital to tailor your CV to each role you apply for, as every job will require different skills and qualifications.
Save a 'master' copy of your CV that can always be accessed and edited. This allows you to easily make copies of your CV tailored to specific roles.
Saving a master copy can save you writing a whole new CV out for every single role you apply for.
Add the finishing touches
Once you're happy with your CV, give it one final read through to ensure there's no glaring mistakes or missing information. Then you'll want to get a fresh pair of eyes to read through it, as it can be easy to miss mistakes in your own work.
Once this has been done it's time to send it off to the employer! Make sure you send off your CV as a Word document as this ensures the employer will be able to read through it.